Summer Sensation
When Summer Heats Up Hair Care is Crucial
Summer is fun for you, but stressful for your hair. Keep your hair care game on point, wherever the season takes you.
Summer is wild, sexy, adventurous. It's a time to jaunt from place to place, to heighten the senses, to experience everything. The problem is, a lot of summer's most exciting activities are hell on the hair. Sunning, swimming, traveling, touring. And that's not even to mention the heat and humidity—not always a chic look.
The good news is it's completely appropriate for summer hairstyles to get a bit loose, preferable even. It's fine to let your hair be natural and free-flowing, a little undone, like a
French Girl Hair would. For the next few months, at least, perfection and polish are simply unnecessary.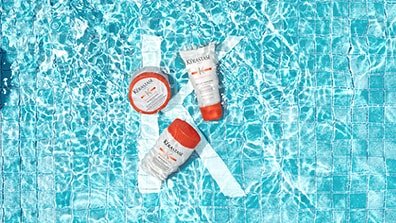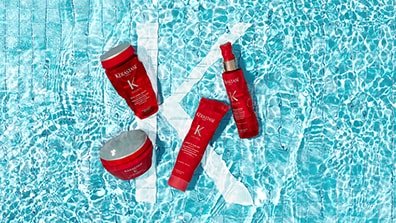 Your Summer Pouch
We've created a chic pouch packed with the 3-step routine of your preferred range, in travel sizes
Discipline
Take control of your culrs this season.
Elixir Ultime
Be radiant and shine on through summer.
Nutritive
Revitalize and protect your summer color.
Resistance
Moisturize and nourish after winter's drying effect.
Soleil
Rebuild strength and give your hair new life.
The Jet-Set Beach Bag
With the purchase of 2 full-size products, receive your travel bag to jet off to your next glamorous destination, hair ritual intact.
The UV Protection
The iconic Soleil 3-step routine protects your hair from harsh sun rays. Adapted in travel size, for a limited time only, they are conveniently packed in a crimson red pouch.
The Carry-on Collection
We've created a chic pouch packed with the 3-step routine of your preferred range, in travel sizes.
RENDEZ-VOUS AT THE SALON
Far more than the place to get your root touch-up or an occasional trim, book an appointment at your nearest Kérastase salon for a complimentary personalized hair diagnosis or ask your hairdresser about the signature and salon-exclusive Fusio-Dose treatment. You can also stop by anytime to browse and shop the complete Kérastase range, no appointment necessary.