LIVE BEYOND TIME
The youth revitalizing ritual for scalp and hair
Discover out 20-minute service for total relaxation and revitalization in 6 steps.
Diagnosis
Each treatment begins with your hairdresser taking a close look at the condition of the hair, as well as listening to your specific concerns about aging, to determine the correct course of action.
Bath
Your hair is bathed and revitalized with a thorough yet gentle Bain.
Treat & Massage
Your hairdresser mixes vital black pearl concentrate with the Masque. The concoction is applied and massaged into your hair and scalp for several minutes, ensuring deep penetration and total relaxation.
Activate
The Chronologiste Serum is massaged into the scalp and roots, delivering powerful anti-aging actives for total hair and scalp restoration.
Protect
Heat protectant layers on top of the Thermique to refine texture, seal cuticules and prime the hair for styling.
Style
The hairdresser performs an artful blowdry according to your preference, with a finishing hair Huile de Parfum smoothed over dry hair for fragrance and shine.
Want to know how to get the best result?
Follow the Chronologiste Routine for scalp and hair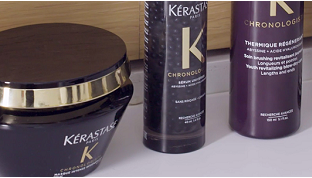 Chronologiste Routine
Give your hair an exceptional and complete ritual Chronologiste combines luxurious advanced technology and unique sensory experience. This restorative treatment sublimates all hair types, from scalp to ends.
This routine is for all hair types.
Fiber revitalization
RENDEZ-VOUS AT THE SALON
Far more than the place to get your root touch-up or an occasional trim, book an appointment at your nearest Kérastase salon for a complimentary personalized hair diagnosis or ask your hairdresser about the signature and salon-exclusive Fusio-Dose treatment. You can also stop by anytime to browse and shop the complete Kérastase range, no appointment necessary.