INGREDIENTS
Deep Hair Hydrator, Hyaluronic Acid
A miracle molecule. A youth infusion. A life-giver. Hyaluronic acid gets a lot of hype in the realm of beauty, and all of it is deserved. But what is hyaluronic acid and what does it do for your hair? And why do our hair scientists love it so much? Let's explore the wonders of this powerhouse hydrator, and explain why it is such a hero in Kérastase ranges like Blond Absolu and Densifique.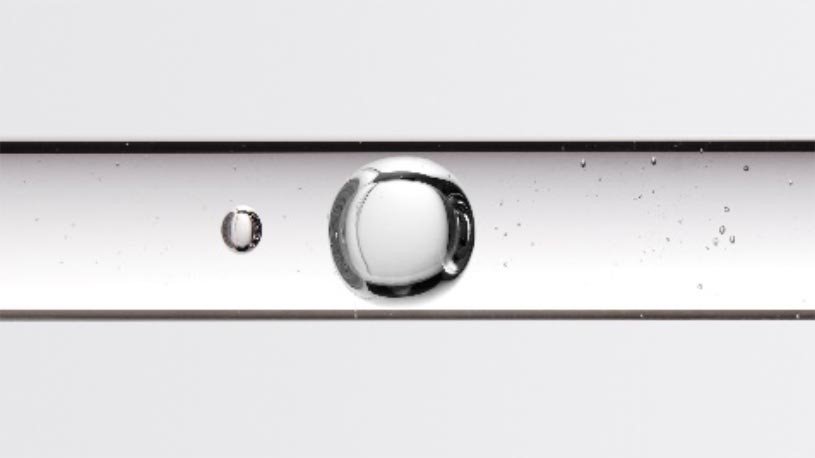 What is hyaluronic acid? Where does it come from?
Discovered by scientists in 1934, hyaluronic acid is a special molecule that occurs naturally in the human body, an essential part of the support system of the skin and hair. It is the reason healthy faces look plump and dewy, and one of the ingredients that makes hair supple and radiant.
How does hyaluronic acid benefit the hair?
In skin care, hyaluronic acid is beloved for its ability to blur fine lines and take years off of the appearance of the complexion. A magnet for moisture, it attracts 1000 times its weight in water, giving it its signature plumping, freshening effects. In hair care, the effect is similar—instant hydration, bounce and shine. Incredibly nourishing, hyaluronic acid revitalizes hair by infusing it heavily with moisture.
How can I apply hyaluronic acid to my hair?
A leave-in hair serum such as Cicaplasme (from the Blonde Absolu range) is a great way to get the intensive moisturizing benefits of hyaluronic acid. Even better, a hair care routine featuring hyaluronic acid at each step will ensure maximum absorbency and efficacy. Your body turns over one third of its hyaluronic acid every day, so it's important to continue to supplement and replace it frequently. A shampoo and conditioner formulated with hyaluronic acid will cleanse your hair and scalp and deliver serious moisture from follicle to tip. You'll see the difference immediately.
Does hyaluronic acid strengthen bleached hair?
Hyaluronic acid is beneficial for any hair type, but it really helps dry or sensitized hair. Which means it's particularly good for blonde hair. Hyaluronic acid restores some of the natural strength and moisture lost during the bleaching process, and prevents future breakage. That's why it's a hero ingredient of the Blond Absolu range. Hyaluronic acid works wonders for all types of blonde hair. It means you can be any kind of blonde you want and still have soft, strong hair!
Is hyaluronic acid safe?
It is completely safe to apply hyaluronic acid to the hair. The molecule is already naturally present in the body, synthesized by the cells in the outer layers of the skin and also inside connective tissue. The space between collagen and elastic fibers is made up of hyaluronic acid water proteins. The problem is, it depletes over time, so replenishing the hair and scalp with hyaluronic acid regularly is essential to keep them vital.
RANGES & RITUALS
How to use hyaluronic acid to enjoy the hair hydrating benefits.
For Blondes
hyaluronic acid hydration for hair
weakened by bleach
1
Bathe
Bain Lumière
Hydrating illuminating shampoo for faux-blonde hair to gently cleanse the fiber leaving hair light and luminous. This Hyaluronic Acid infused shampoo is a lightweight formula ideal for lightened, bleached, gray or light faux-blonde hair. The gentle cleansing formula soothes and hydrates hair from root to tip, leaving a lightweight feel and iluminating blond tones. It detoxifies hair from pollution and removes dulling agents. Enriched with a potent combination of Hyaluronic Acid and Edelweiss flower, the formula has high concentrations of antioxidants to prevent damage and protect fiber. Hyaluronic Acid deeply hydrates blonde hair, smoothing fiber for a uniform touch along hair strands. Hair is prepared to be treated, luminous with natural shine and nourished to the tip.
2
Bathe
Cicaflash
This opalescent milky gel with a soft lavender hue offers the restorative performance of a masque with the lightweight finish of a conditioner. It intensively restores sensitized hair, nourishing the fiber. The combination of Hyaluronic Acid and Edelweiss flower instantly smoothes, strengthens and softens sensitized lightened hair while providing deep nutrition. Ideal for all tones of faux-blonde hair, Cicaflash restores the hair fiber, preventing breakage and erosion. Hair is soft and moisturized while remaining lightweight and luminous.
3
Treat
Cicaplasme
This opalescent lavender-colored leave-in cream fortifies sensitized faux-blonde, lightened, highlighted and grey hair. Enriched with Hyaluronic Acid and Edelweiss flower, Cicaplasme seals split ends and smoothes the hair fiber for a uniform touch and long-lasting frizz control. It instantly treats the damaged areas of the fiber. Cicaplasme provides heat protection for up to 230°C to protect hair from heat styling tools. It also contains UV filters to protect against daily oxidation and pollution deposits. Hair is soft and luminous.
For Mature Men
Densifique
plumping moisture for men with thinning hair
Densifique Routine
Hair loss and loss of density are different hair concerns that Kérastase treats with a dedicated ritual.
DIAGNOSE MY HAIR