Great Gifts All Around
There is no better feeling than finding the perfect gift at the ideal price point. We've got holiday treasures to satisfy every budget—and they're all incroyable.
When you have a lot of special people in your life, holiday gift shopping can be overwhelming. With all of this gratitude in your heart, you can easily find an exquisite luxury for everyone, while keeping your approach quite practical. Each of these perfectly priced gift ideas is a special treat for anyone on your list.
When a simple token of appreciation is in order, a travel-size sampler is the ideal gift. Each discovery set includes a Bain, a Masque and a Serum.
It is provide a trial routine but can also be an opportunity to highlight a single, beloved product. Small indulgence can make a big difference.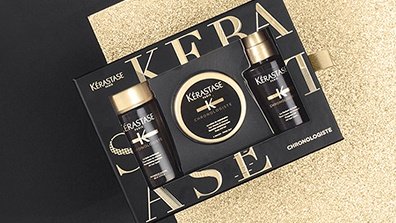 €40-€55
We've got plenty of gifts that enhance the radiance of the season, from favourite full-size products to fragrant box sets. The Aura Botanica gift set includes Bain Micellaire Riche, Soin Fondamental and a candle that infuses the home with the range's invigorating scent. Or choose the iconic, shine-inducing Elixir Ultime Oil with a special "tattoo" glass bottle. Lots of luxurious options in this price range.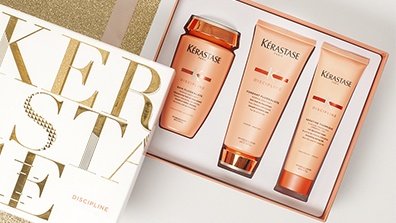 €55-€70
For someone truly special, an indulgent boxed set from their favorite Kérastase range is perfect. Whether they love Nutritive, Reflection, Resistance or Discipline, each beautiful box comes with a full size Bain, styling product and Masque or Conditioner. At this level, you can also mix and match your own personalized product mix.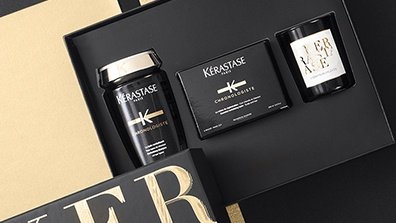 More than €70
The most amazing people in your life deserve the best. For those select few, we suggest the ultimate luxury: The Chronologiste Gift Set. Encased in a dramatic black and gold holiday gift box, this ultra-indulgence includes Bain Chronologiste, Crème Chronologiste and a scented candle. Or, build your own 3-step regimen tailored to the recipient's needs, including a Bain, a Masque and a Primer.
Gift Finder
Need more inspiration to find the ideal gift? We've got three more ways to get it just right.